Ties that bind – Senior Honours recipients Sam Bosworth and Joe Moody
A gold medal-winning coxswain who has made rowing history and one of New Zealand's most powerful present-day rugby props have been awarded Senior Honours Ties at the Christ's College Assembly.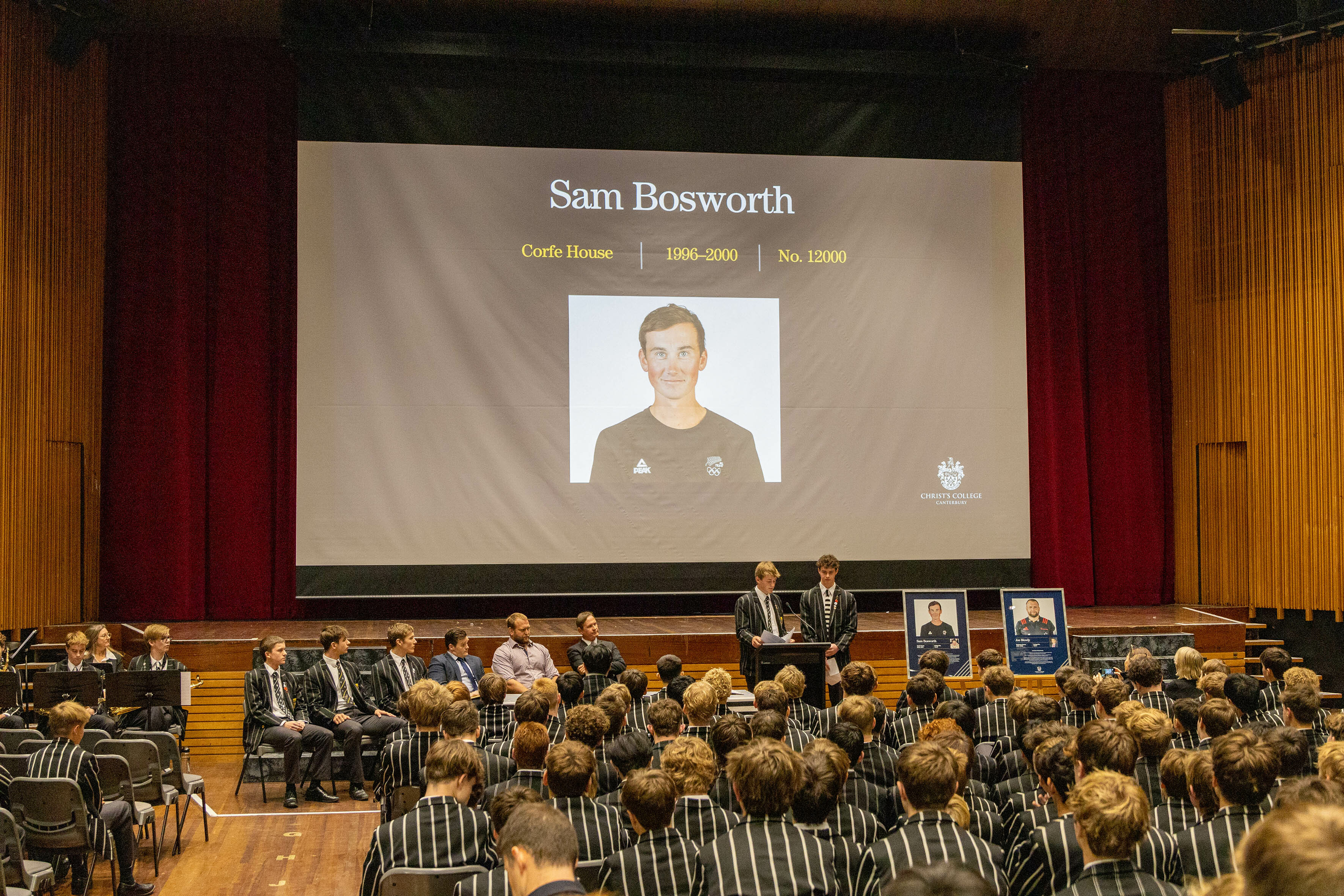 Among the most outstanding Old Boys to represent New Zealand, Tokyo Olympics champion Sam Bosworth and World Cup-winning All Blacks prop Joe Moody have been lauded for their remarkable achievements at the highest levels of international sport.
Addressing the packed Assembly Hall, Christ's College Old Boys' Association Committee member Tim Daley has explained that the Senior Honours Tie recognises those who have given service to the school or achieved "particular distinction in their chosen fields".
While Sam has spoken via video from the United Kingdom, Joe has received his tie in person.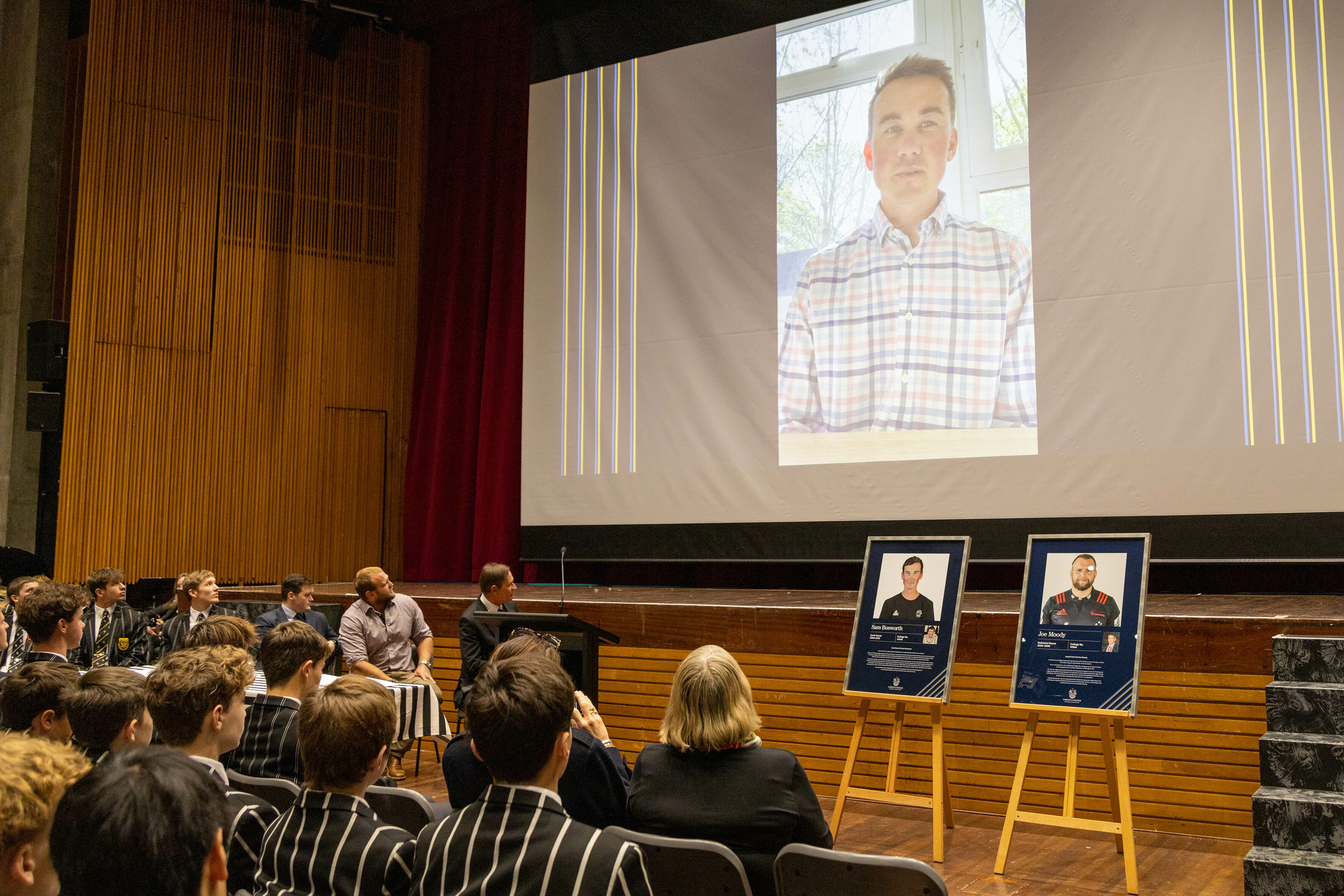 Sam says he is "humbled to be recognised with the Senior Honours Tie", adding that he has been "very fortunate to attend Christ's College".
"I have been proud to represent my country and have learnt a lot of valuable life skills during my time at College," he says.
Sam has also urged each student to "make the most of their opportunities" at College and "cherish their school friendships".
Speaking at Assembly on Thursday, Joe has thanked Christ's College "for all the opportunities it has given me".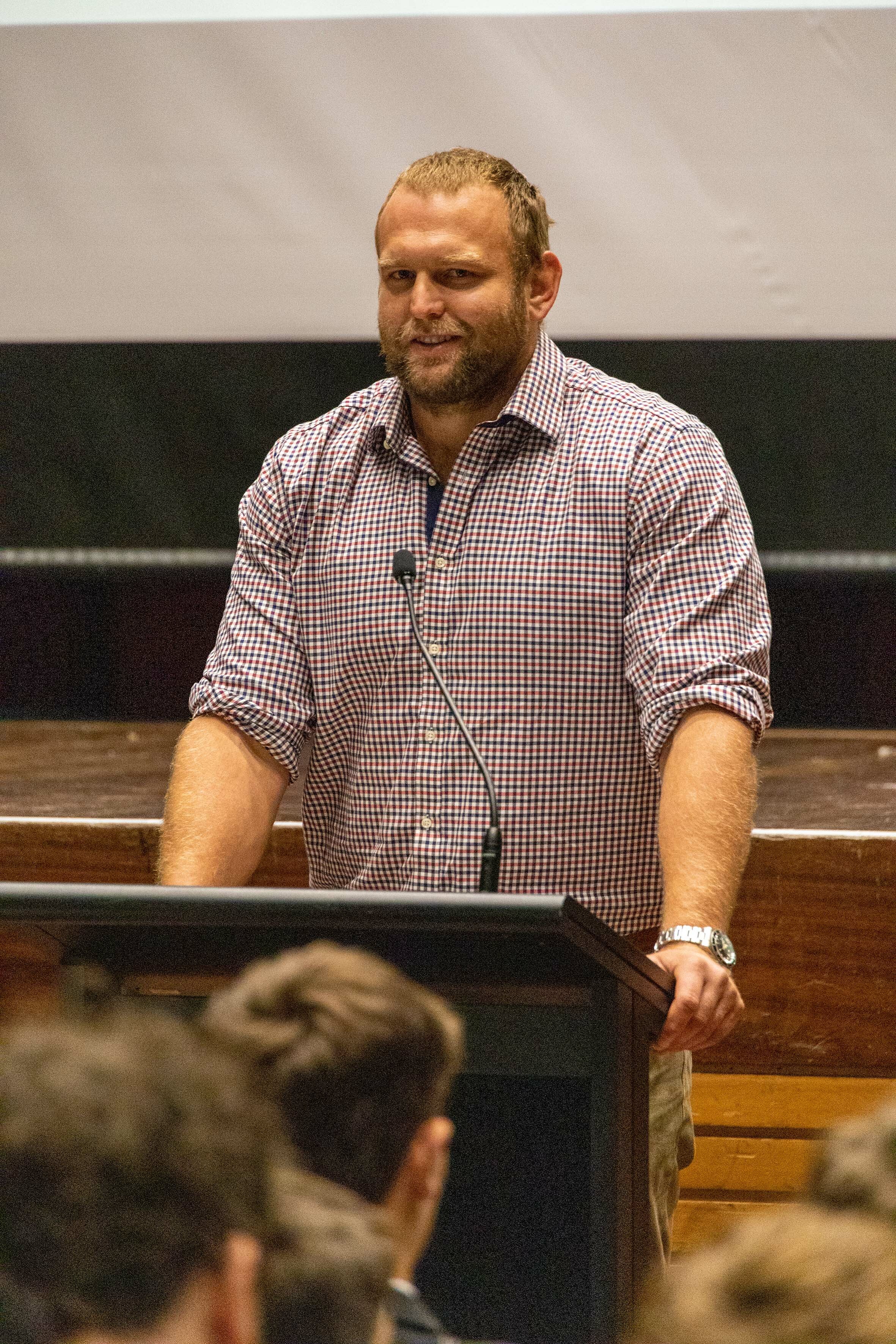 "It was a great stepping-stone that presented me with opportunities that I ended up taking," he says.
Joe has also encouraged the boys to relish their College opportunities and try everything they can in the school environment.
During Assembly, students George Cochrane and Albie Roberts have read the citations for Sam and Joe, respectively.
A member of Corfe House from 2008–2012, Sam Bosworth (14540) won gold as the coxswain for the men's eight at the 2020 Olympics. He also made rowing history as the first male cox for an international-level women's crew, claiming the first medal for that combination. Sam launched his rowing career at Christ's College, coxing his crew to win the Maadi Cup in 2012 before being selected for the national junior men's coxed four and guiding the New Zealand crew to gold at the World Rowing Junior Championships. He then stepped up to the U23 level, winning several silver medals and then gold in 2016.
In 2017, Sam was selected to cox the elite women's eight, winning World Rowing Cup gold and silver, and then bronze at the World Rowing Championships. In 2019, Sam switched to the men's eight, and secured gold at the Olympics.
Sam has completed a Bachelor of Environmental Management and Planning through Lincoln University and a Graduate Diploma in Business Studies at Massey University. Now retired from representative rowing, Sam works as a Development Manager in London.
Having made his Crusaders debut in 2013, front-rower Joe Moody (12994) was soon called up to the All Blacks and then featured in both the 2015 and 2019 Rugby World Cup. Joe, who is affiliated to Ngāi Tahu, also debuted for the Māori All Blacks in 2015 against Fiji.
A member of Rolleston House from 2002–2006, Joe also represented New Zealand in age-grade rugby league and wrestling, earning New Zealand and Oceania championships. As a wrestler, he won a bronze medal at the Junior Commonwealth Games.
A 57-test All Black and Crusaders centurion, Joe continues to power up at the highest levels and aims to line up in his third Rugby World Cup in September in France.
Click here to see Sam Bosworth's Old Boys Poster.
Click here to see Joe Moody's Old Boys Poster.