Korowai cloaks
Two beautiful handmade korowai cloaks mark an historic milestone in the nearly 175-year history of Christ's College.
Presented to the school in October 2020, the korowai recognise the leadership of the Executive Principal and the significant contribution of the Head Prefect.
The top row of black feathers signifies the mantle of leadership and mana carried by the Executive Principal while the black and white feathers represent every boy currently at College. The large black area of feathers represents the school faculty, and every teacher and member of staff giving service. The black and white feathers at the bottom represent College Old Boys – the foundation on which Christ's College has been built.

The top row of feathers in the Head Prefect's korowai signifies the mantle of leadership and mana carried in the role. The rest of the cloak is adorned with feathers representing every boy at College, past and present, who the Head Prefect serves.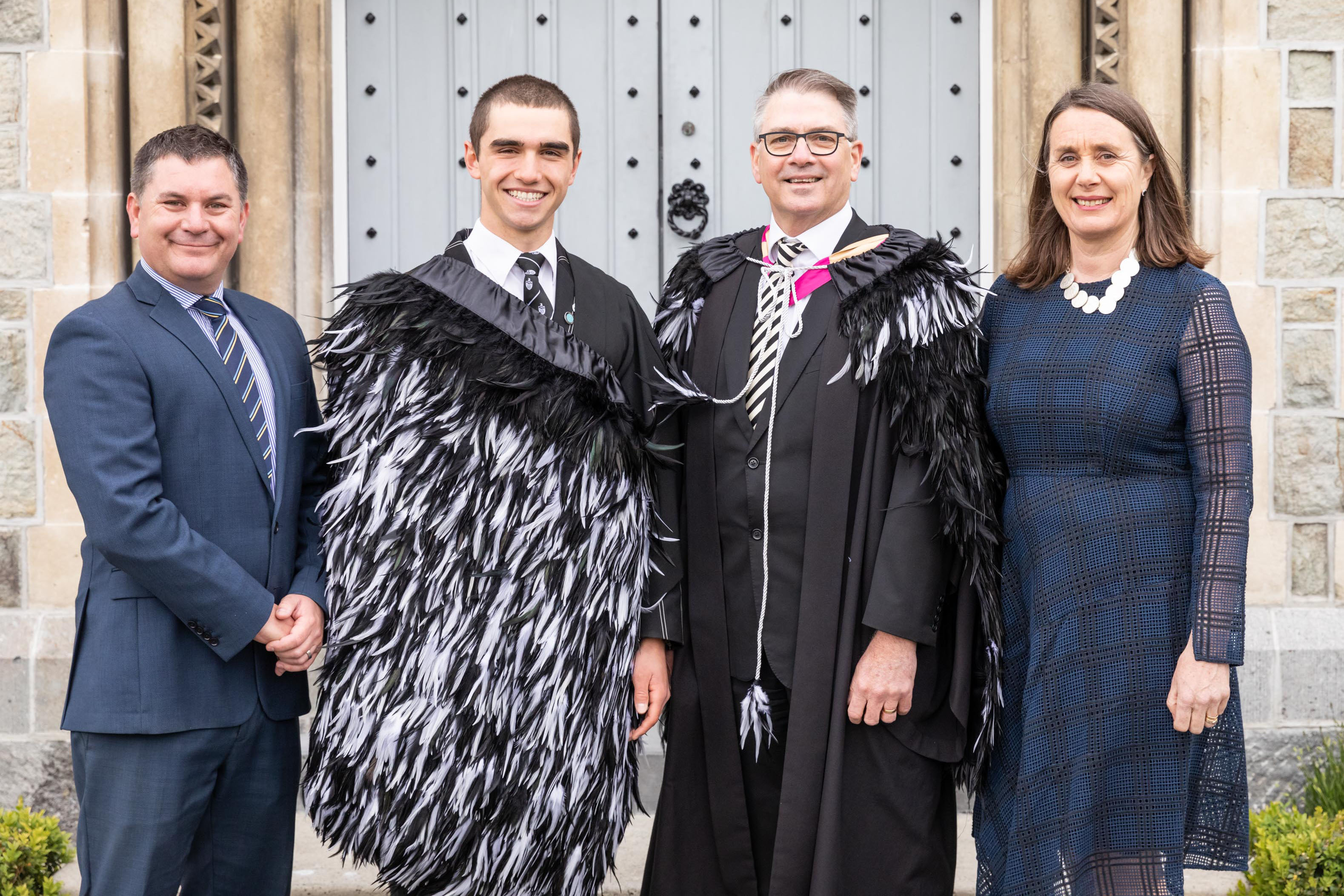 The Christ's College Parents' Association gifted the Executive Principal's korowai and the Christ's College Old Boys' Association gifted the Head Prefect's korowai.
Speaking at the korowai blessing and presentation in 2020, Kaiakao i Te Reo Māori Dr Mike Field highlighted the gifting of the korowai cloaks as a special day for Christ's College.
"The korowai honour the work done by the Executive Principal and the Head Prefect. It is a pleasure to celebrate this special day, which is another step forward for our school and the way in which we celebrate our two cultures."
During the ceremony, the korowai were blessed by Bishop Richard Wallace, the Māori Bishop of Te Wai Pounamu.
The concept of the College korowai was suggested by then College parents Janine Morrell-Gunn and Rebecca Stewart.
The idea was borne from the Christ's College Māori/Pasifika parents rōpū. The group wanted to acknowledge the mahi and leadership of the Executive Principal to tikanga (customs and traditional values) and te reo Māori. It marks the beginning of the next chapter of Christ's College's journey and commitment to weaving and embedding Te Ao Māori into the fabric of everyday College life. The korowai gives mana and respect to every Executive Principal and Head Prefect who wear the cloaks.
The korowai were created by Jared and Merenia Riwai-Couch, and woven by Heni Cook.
Ma te huruhuru ka rere te manu – It is the feathers that enable the bird to fly