University Scholarships for 2024
Christ's College students have been awarded an impressive 52 university scholarships for 2024.
Both Head of Academic Angus Gifford and Head of Boarding Lachie Short have been awarded four scholarships each while Deputy Head Prefect Matthew Brett and Head of Chapel Choir Alex Law have been awarded three scholarships.
Angus, Lachie, Matthew and Lewis Whiteside have all received the top academic scholarships. The range of scholarships achieved by the students reflects the depth and breadth of leadership, academic ability, and sports talent at College.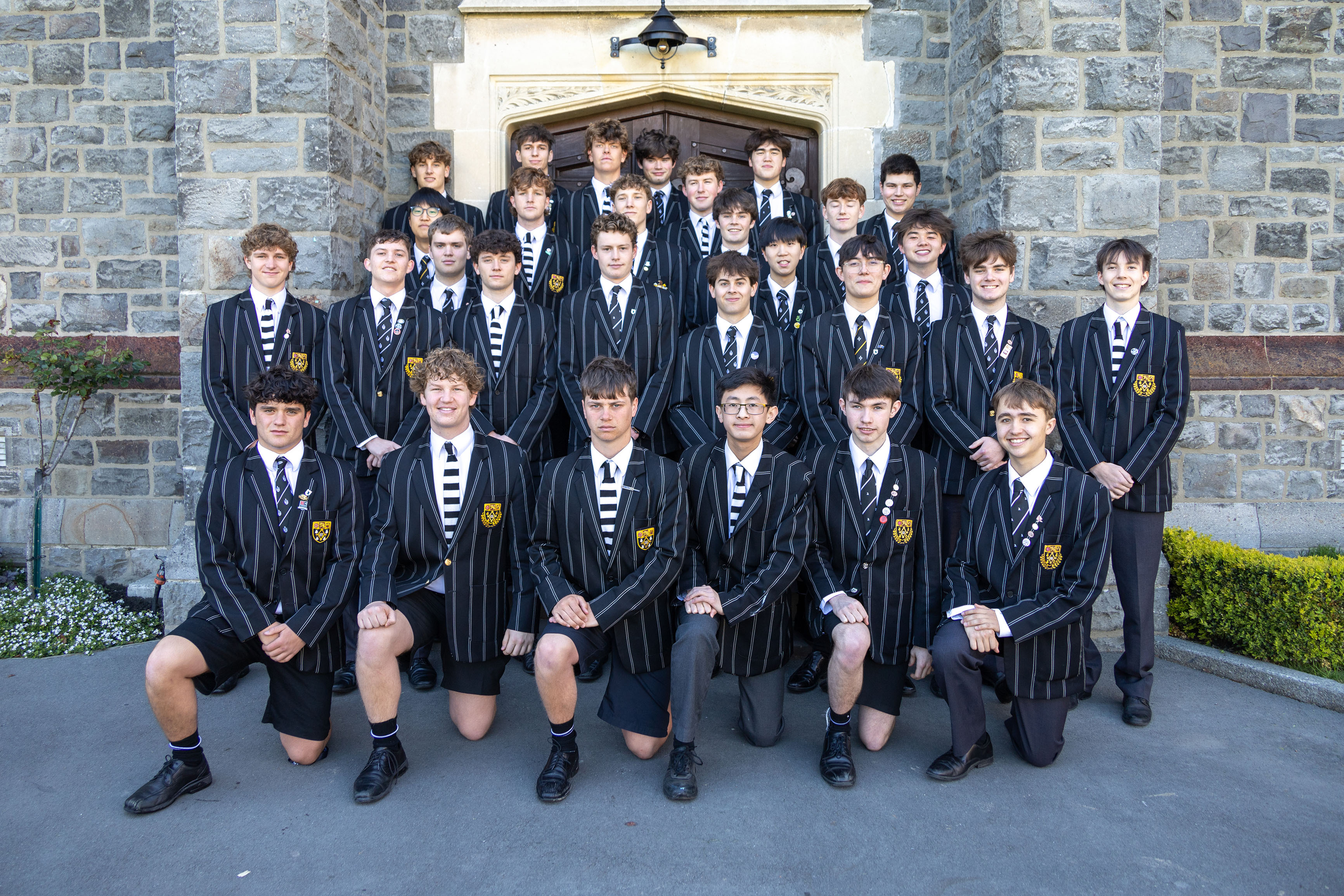 Charles Beale
University of Canterbury Hiranga Scholarship Academic Excellence
James Bernau
University of Otago New Frontiers Excellence Entrance Scholarship
Matthew Brett
University of Auckland Top Achiever Scholarship
University of Otago Academic Excellence Entrance Scholarship
University of Canterbury Hiranga Scholarship Academic Excellence
Nicholas Brown
University of Otago New Frontiers Excellence Entrance Scholarship
Sam Chittock
University of Otago New Frontiers Excellence Entrance Scholarship
Sam Cross
University of Canterbury Hiranga Scholarship Academic Excellence
Ed Davidson
University of Otago Leaders of Tomorrow Entrance Scholarship
Victoria University of Wellington School Leaver Scholarship (Tangiwai)
Thomas Douglas
University of Otago Vice-Chancellor's Scholarship
University of Canterbury Hiranga Scholarship Academic Excellence
James Drury
University of Canterbury Hiranga Scholarship Academic Excellence
Otto Elworthy
University of Canterbury Hiranga Scholarship Academic Excellence
Tom Foster
University of Otago Leaders of Tomorrow Entrance Scholarship
Angus Gifford
University of Auckland Top Achiever Scholarship
University of Otago Academic Excellence Entrance Scholarship
Victoria University of Wellington Kahotea Scholarship
University of Canterbury Hiranga Scholarship Academic Excellence
Oliver Glossop
University of Canterbury Hiranga Scholarship Academic Excellence
Colin Gong
University of Canterbury Hiranga Scholarship Academic Excellence
Matthew Hocquard
Lincoln University Sports Scholarship – Cricket
Josh Hooker
University of Otago Leaders of Tomorrow Entrance Scholarship
Faculty of Science High Achiever Undergraduate Entrance Scholarship
Jonty Inglis
University of Otago Vice-Chancellor's Scholarship
Sean Jang
University of Canterbury Hiranga Scholarship Academic Excellence
Fergus Johnston
University of Otago Performance Entrance Scholarship
Alex Law
University of Otago Leaders of Tomorrow Entrance Scholarship
Victoria University of Wellington Tangiwai Scholarship
University of Canterbury Hiranga Scholarship Academic Excellence
Michael Li
University of Otago Vice-Chancellor's Scholarship for International Students
Alex McEwan
University of Canterbury Hiranga Scholarship Academic Excellence
Jack Mckenzie
University of Otago Māori Entrance Scholarship
Jack McKeown
University of Canterbury Hiranga Scholarship Academic Excellence
Finn Melhuish
University of Canterbury Hiranga Scholarship Academic Excellence
Thomas Moggie
University of Canterbury Hiranga Scholarship Academic Excellence
University of Canterbury Horomata Scholarship for General Excellence
Gus Pavey
University of Canterbury Hiranga Scholarship Academic Excellence
Charlie Poulter
University of Otago Performance Entrance Scholarship
Greg Robertson
University of Canterbury Hiranga Scholarship Academic Excellence
George Rookes
University of Otago Leaders of Tomorrow Entrance Scholarship
University of Canterbury Hiranga Scholarship Academic Excellence
Lachie Short
University of Otago Academic Excellence Entrance Scholarship
Victoria University of Wellington School Leaver Scholarship (Tangiwai)
University of Auckland Top Achievers Scholarship
University of Canterbury Hiranga Scholarship Academic Excellence
William Sudell
University of Canterbury Hiranga Scholarship Academic Excellence
Lewis Whiteside
Victoria University of Wellington Academic Scholarship
University of Canterbury Hiranga Scholarship Academic Excellence
Nick Wilson
University of Auckland Academic Potential Scholarship
Victoria University of Wellington Tangiwai Scholarship
Lucca Wiseman
University of Otago Leaders of Tomorrow Entrance Scholarship