Three-pointer lands Junior A basketball title
The Christ's College Junior A basketball team has lifted the inaugural Grocott Trophy, securing the three-point win over Hillmorton High School in overtime at Cowles Stadium.
Coached by Tom Higgins, the Junior A team members fought back in the final quarter to end their unbeaten rivals' run, 88–85. College powered into the game with outstanding defence and well-drilled attacking plays.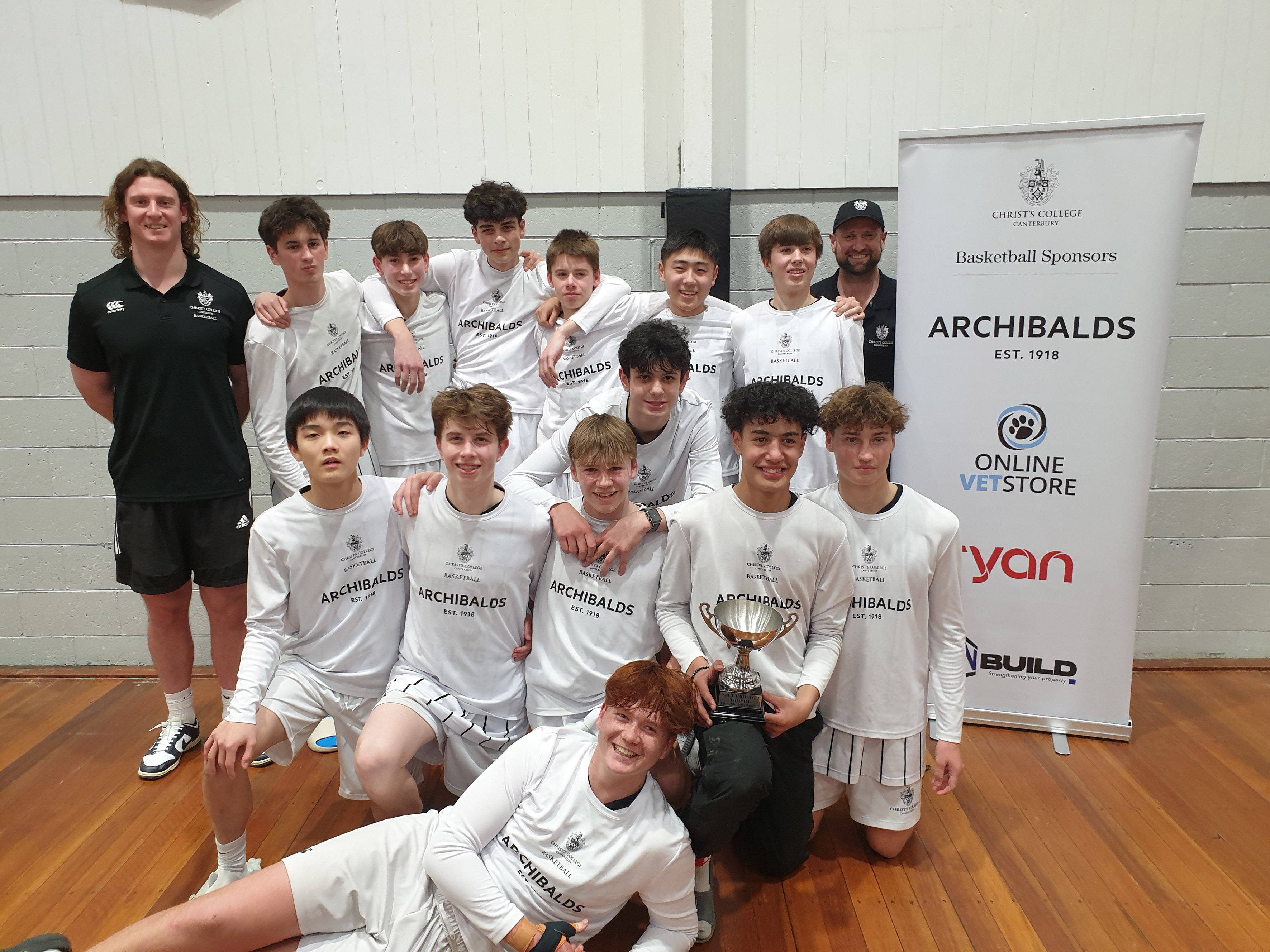 Jackson Grace, Tawhiri Cate, and Lui Tupuola led the charge, with Tawhiri stepping up to make big plays down the stretch. With the game in the balance in overtime, Jackson delivered an important free throw and a crucial three-pointer to seal the win. Both Jackson and Lui scored 18 points each while Tawhiri netted 15 and captain Josh Shannahan, 14.
"It has been an awesome first year of the competition and the boys have enjoyed every minute of it," the coach says. "We've had a bit of a challenging season with sickness and injuries, but the whole squad has stepped up and added value when it counted."
In the semi-final, College also beat Cashmere High School, 94–89, in overtime.
In a repeat of last year's Thomson Trophy contest, College Senior A faced the unbeaten St Thomas of Canterbury College side. With only three members of the 2022 national title-winning Christ's College team taking the court, the boys delivered a remarkable 2023 season performance to make the final.
While College stayed within range of St Thomas for most the game, countless lay-ups rolled out of the rim. In the final quarter, St Thomas proved too strong, winning the trophy, 94–79, and ending College's three-year title run.
Coached by Quinn Clinton, the senior boys never gave up, with captain Ihaka Cate leading the point-scoring with 22, followed by Tama Isaac (21), and Truman Heath (15).
College players and supporters were also praised for their sportsmanship and behaviour, both on and off the court.
Senior A: Ihaka Cate (captain), Tawhiri Cate, Ed Davidson, Gus Eglinton, Truman Heath, Hoani Ifopo-Togia, Tama Isaac, Aston Nijjar, Boston Paerata, Josh Shannahan, and Austin Smith.
Junior A: Josh Shannahan (captain), Charlie Burns, Tawhiri Cate, Drew Edmundson, Jackson Grace, Jack Howard, Bruno Kearney, Lucca Kenny, Archie Nijjar, Lui Tupuola, Liam Wylie, and Yannis Zhang.