The JJ's Drive – on air with Josh and Joey
Tune into The JJs – Year 13 student Josh Peckitt and Old Boy Joey Young – as they present their own Kiwi music-focused radio show.
Live on air on Plains FM, The JJ's Drive delivers a specially curated mix of New Zealand music, along with interviews with band members.
Josh, 17, and Joey, 19, research and present The JJ's Drive show every Thursday from 4–5pm and every second Monday from 4–5.30pm.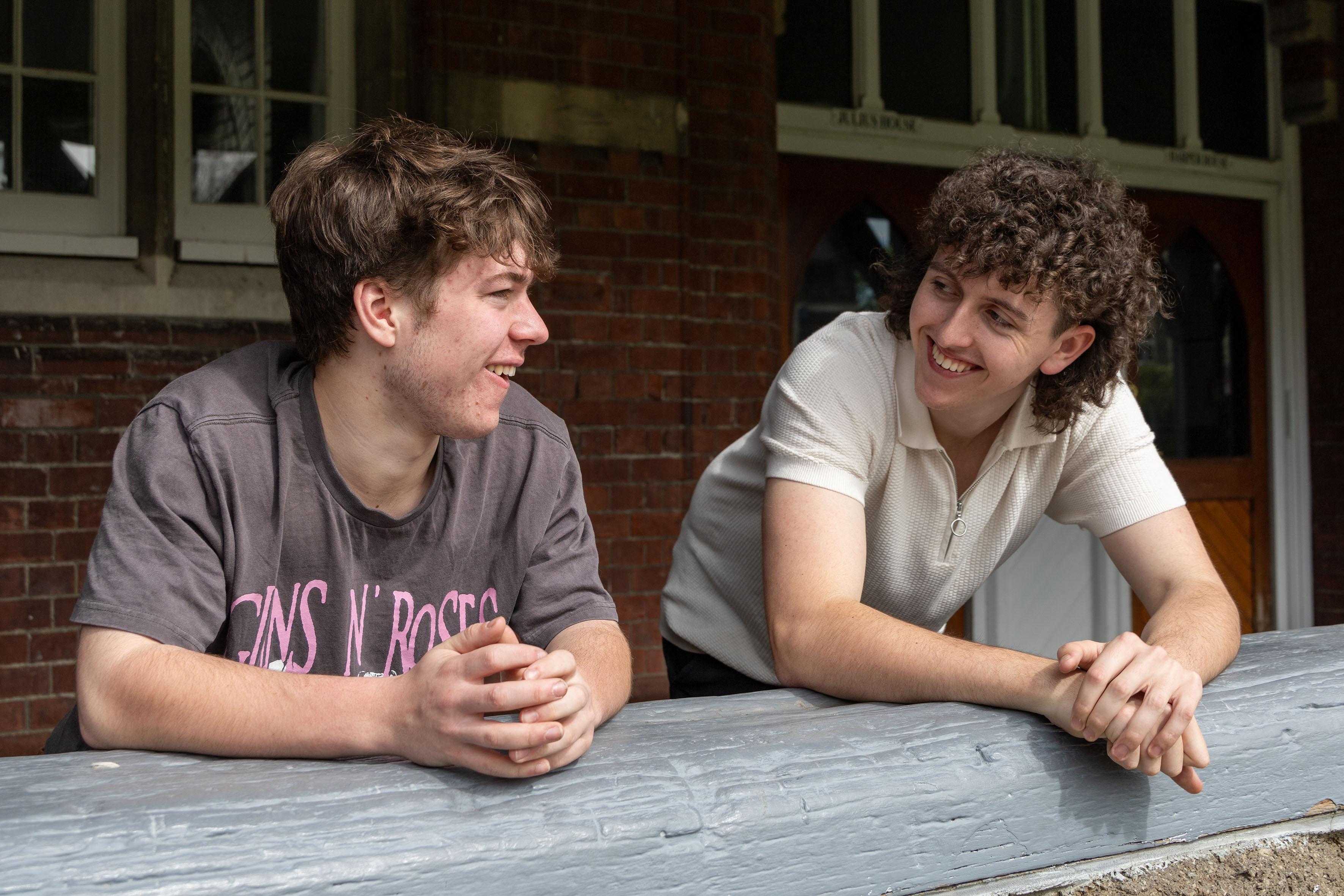 "The JJ's Drive promotes local music from Aotearoa New Zealand," they say. "We love getting local bands in for interviews to showcase their talent and also love promoting any events happening locally to support our community."
For the young presenters, it is a rare opportunity to share that passion for broadcasting – and fresh Kiwi sounds – first discovered in their combined 2022 Years 12–13 Media Studies class taught by College Head of English Chris Waugh.
"That's when we got to know each other," Joey, a former member of Julius House, says. "We soon found that we had a shared interest and kept in touch when I headed to Broadcasting School this year."
Joey has enjoyed his first year at the Ara campus, returning to College to tell students about the Ara Open Day and encourage the boys to consider a career in broadcasting.
"Mr Waugh had suggested in my final year that the Broadcasting School could be a good fit for me, and really supported my application," he says.
Josh also has settled on a career in radio following his experience in Media Studies and an opportunity to take up the on-air role.
"Earlier this year, Mr Waugh gave me a contact for someone he knew at Plains FM, a community access station," he says. "I was unsure about taking on a solo show but then reconnected with Joey at the Ara Open Day.
"I asked Joey if he wanted to join me and JJ's Drive on Plains FM was born. Our hearts were pounding during the first show, and we were both pretty nervous. However, we quickly became more comfortable behind the microphones."
While Joey brings a range of music knowledge and the technical talent following a year at Broadcasting School, Josh takes on the announcement and news roles.
Both try to find as many local artists as possible and "share local music through our show".
"We want to support the young community of Kiwi musicians and singers," Joey says. "We are also trying to line up more interviews to share with our youth audience. You can listen online, and search for our show, The JJ's Drive, or you can listen in on the radio at 96.9."
Both Josh and Joey credit their "incredible Media Studies teacher" for opening the door to a career in broadcasting and also appreciate their chance to be involved in Drama at College, having taken roles in three House Plays, and the As You Like It production in 2021.
"My time in the Drama programme and also appearing in Peter Pan have helped build my confidence and grow my ability to think on my feet," Josh says.
Joey believes that his experience in the Theatresports competition has laid the foundations for being a broadcaster, enabling him to speak off the cuff and entertain on air.
Next year, Josh plans to start his three-year Bachelor of Broadcasting Communications at Ara as Joey moves into his second year. Both aim to be radio presenters, with Joey hoping to land a "dream role" with The Rock station while Josh favours contemporary network ZM.
While Joey enjoys rock bands like the Foo Fighters and indie groups, Josh loves "everything and anything" when it comes to music. Both agree that "you never know where live radio will take you" but they are looking forward to the journey.