Taste of home at Flower's House dinner
Year 12 boarder Joshua Peckitt shares tasty titbits about the evolution of the much lauded Flower's House Year Group Dinner.
At Flower's House, we pride ourselves on staying connected, especially with devices in the way these days. So, after nearly two months of sitting at home because of Covid-19, not being able to see each other face-to-face and missing the social side of life in a boarding House, we had a great idea in 2020.
Our Matron, Karen Adams, told us about past year group dinners, where boys brought food from home to create a full dinner. So, we decided to have one once lockdown ended. A list was compiled, featuring everyone's name and what they would bring. All sorts of food arrived, including homemade bread with flour that started on the farm, venison steaks from deer sourced the week earlier, lamb from the farm and much more. Karen did the cooking, while some boys prepared meat on the barbecue.
The table in the junior Common Room was set, with spaces for everyone, including Karen and the Housemaster. For dessert, there was homemade ice cream and lemon cheesecake. It was a huge success, with all the boys enjoying eating food from each other's backyards and catching up after the lockdown. It was then decided to have a special dinner every year until we left in 2023. When 2021 rolled around, another list was made. The home-kill venison and bread were brought in, but this time there was also pheasant and kimchi. Many boys had not had these foods, so it was a new experience. Again, the dinner was a great success, with everyone enjoying it and cracking jokes.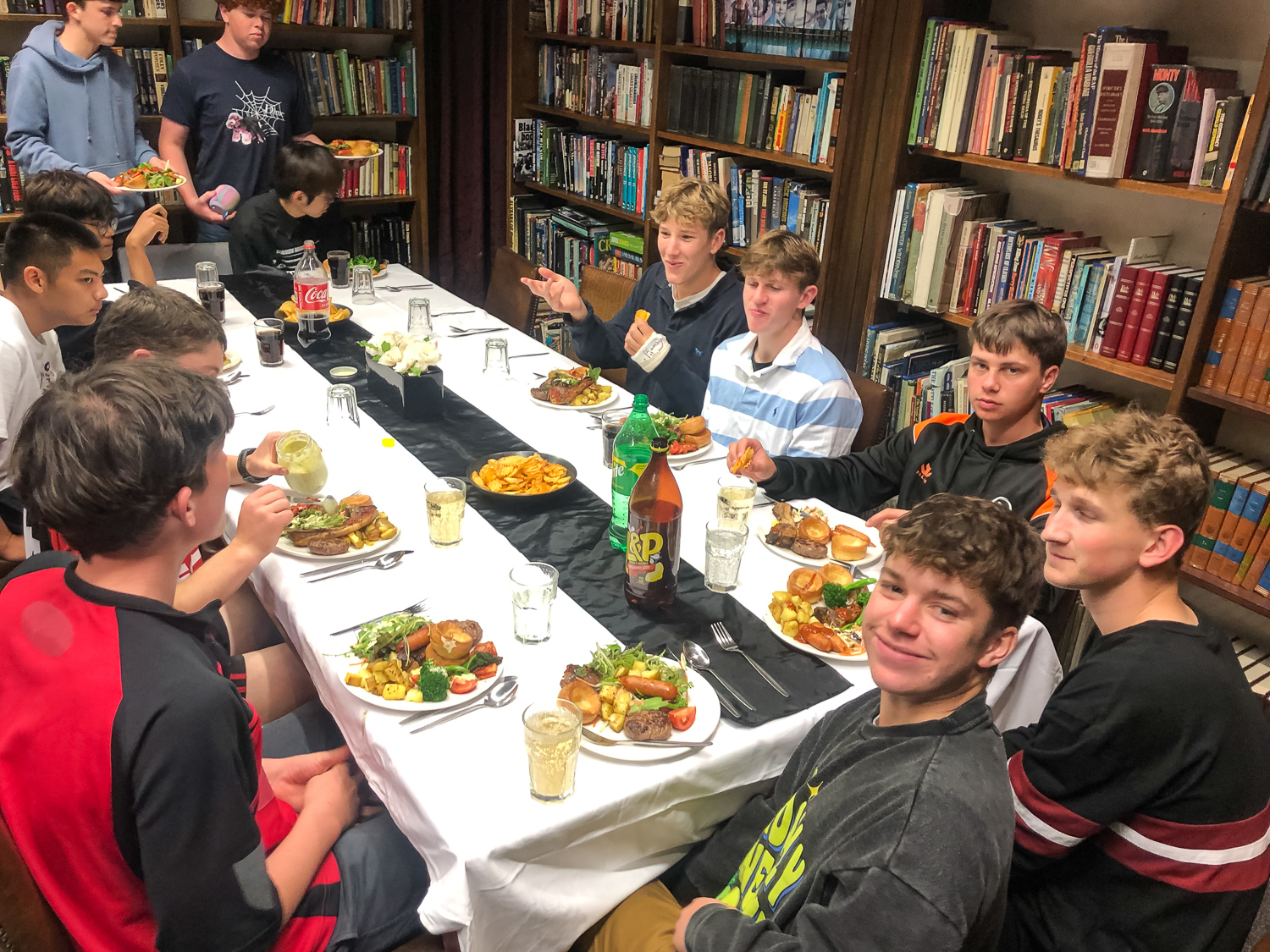 This year, we celebrated the third edition of the Flower's House Year Group Dinner, an impromptu name. With some last-minute preparations, it was a great dinner. Lamb and venison was brought in from boarders' homes, with potatoes and salad as sides. Homemade Crunchie Bar ice-cream was ready for dessert, as well as homemade apple crumble with apples off one of the boy's trees, and a banoffee pie.
We are all looking forward to next year, but also a bit sad as it will be our last dinner together. However, the memories will stay with us for years to come.