Take note of virtuoso recital by Berlin Trio
The Berlin Trio – featuring masterful College musicians Joshua Hooker and Ryan Gu – has won praise for "phenomenal playing of a very virtuosi work" in "a committed and bravura performance" at the NZCT Chamber Music Finale in the Auckland Town Hall.
Along with Joshua's sister, Jasmine, a cellist, the College Music scholars have achieved national honours at the prestigious competition, winning the Helen Young National Second Place Award. The professional performance has also been recorded by Radio New Zealand. In total, 380 ensembles vied for a spot in the finale but only eight groups were selected.
At just 14, pianist Ryan is already a highly skilled professional while Joshua, 16, is a violinist of equally rare talent. Despite their youth, both boys hold a Licentiate of Music from Trinity College, London (LTCL) with Distinction. Joshua also has attained LTCL in piano.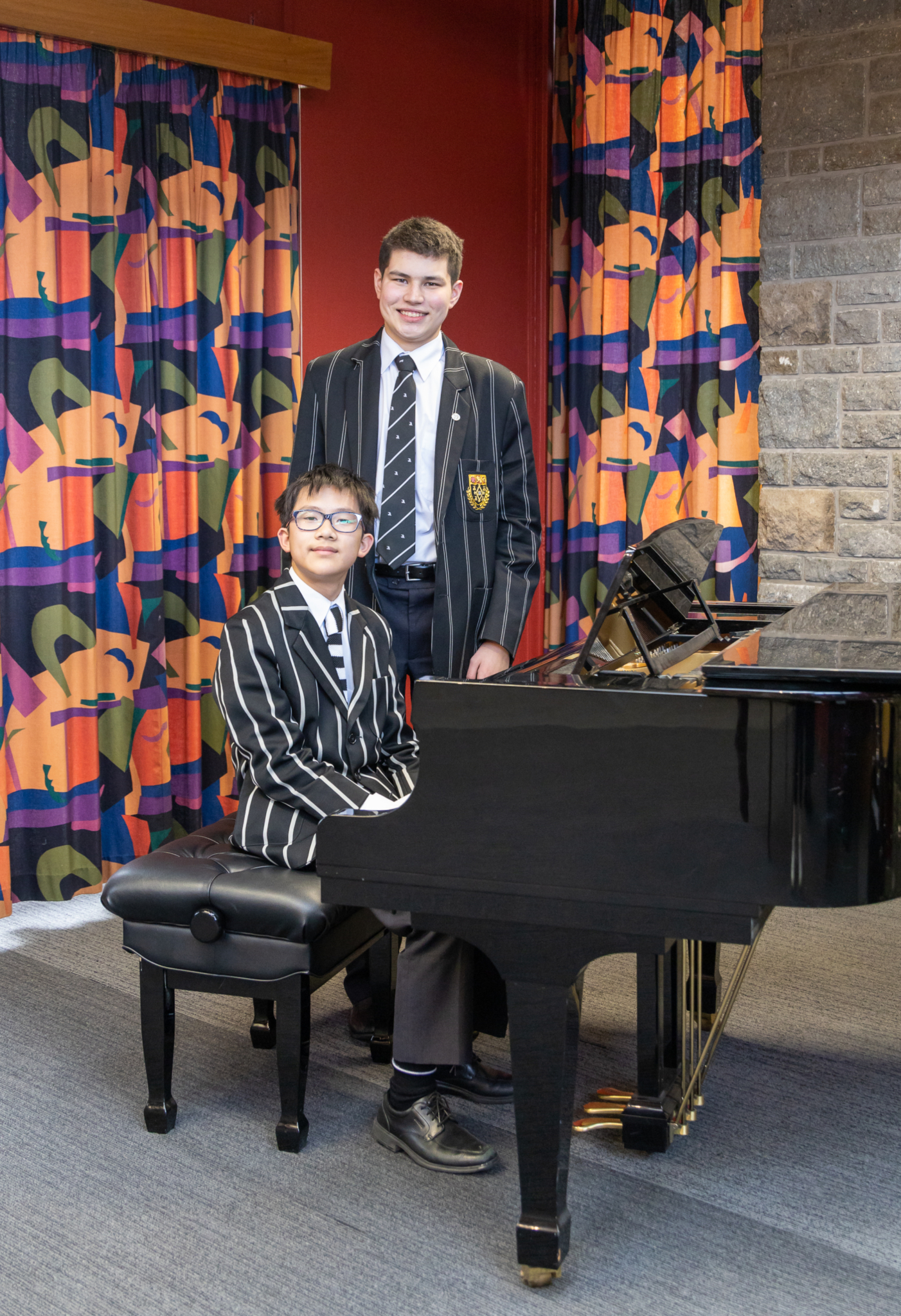 The contest adjudicators – opera singer Madeleine Pierard, British cellist Matthew Barley, and pianist Stephen De Pledge – have described the trio's performance of Mendelssohn's Trio No 1 in D minor as "beautifully communicated and really lived".

"Fabulous ensemble playing, especially phrasing and intonation between the strings. You told the 'story' of the music beautifully and I believed every note. This was mature, assured, and engaging music-making. I loved every minute – a professional performance indeed," one comments.
As the boys explain, it has not been an easy journey to the finale.
"When we first picked up the piece, it looked easy. It seemed like it could be put together in a month. However, we came to realise very quickly that would not be the case. Preparing any type of music to a high level requires hours and hours of work and you only play it well if you put in the work."
As the competition drew closer, their hours or preparation rapidly climbed – up to about 14 hours a week. However, once they walked onto the stage, they felt relaxed and ready.
"I thoroughly enjoyed myself," Joshua says. "We took on board the judges' suggestions regarding techniques to deal with nerves and played our hearts out. Put simply, hard work equals results."
Both boys appreciate the support of Director of Music Robert Aburn and credit renowned international pianist – and teacher – Michael Endres for guiding their success.
"Mr Endres teaches both of us piano and without his help we would not have got that far in the competition. He has also helped with strings work in more complex things like balance and musical shaping," Joshua says.
Still in Year 12, Joshua is considering undertaking a double degree in Music and the Sciences at the University of Sydney while Ryan, who is in Year 10, favours a double degree in Music and Mathematics.
While both are kept busy balancing the workload between Music and academic, they are already opening the door to double the opportunities long-term.