On safari at the Round Square International conference
Year 13 students Jack McKeown and Tom Foster have shared a remarkable journey to Kenya to attend the 55th annual Round Square International conference in Nairobi and embark on a safari to Masai Mara and Lake Nakuru National Park.
Accompanied by Deputy Principal Rob Donaldson, both Jack and Tom have described their 16 days in Africa as "a once-in-a-lifetime trip".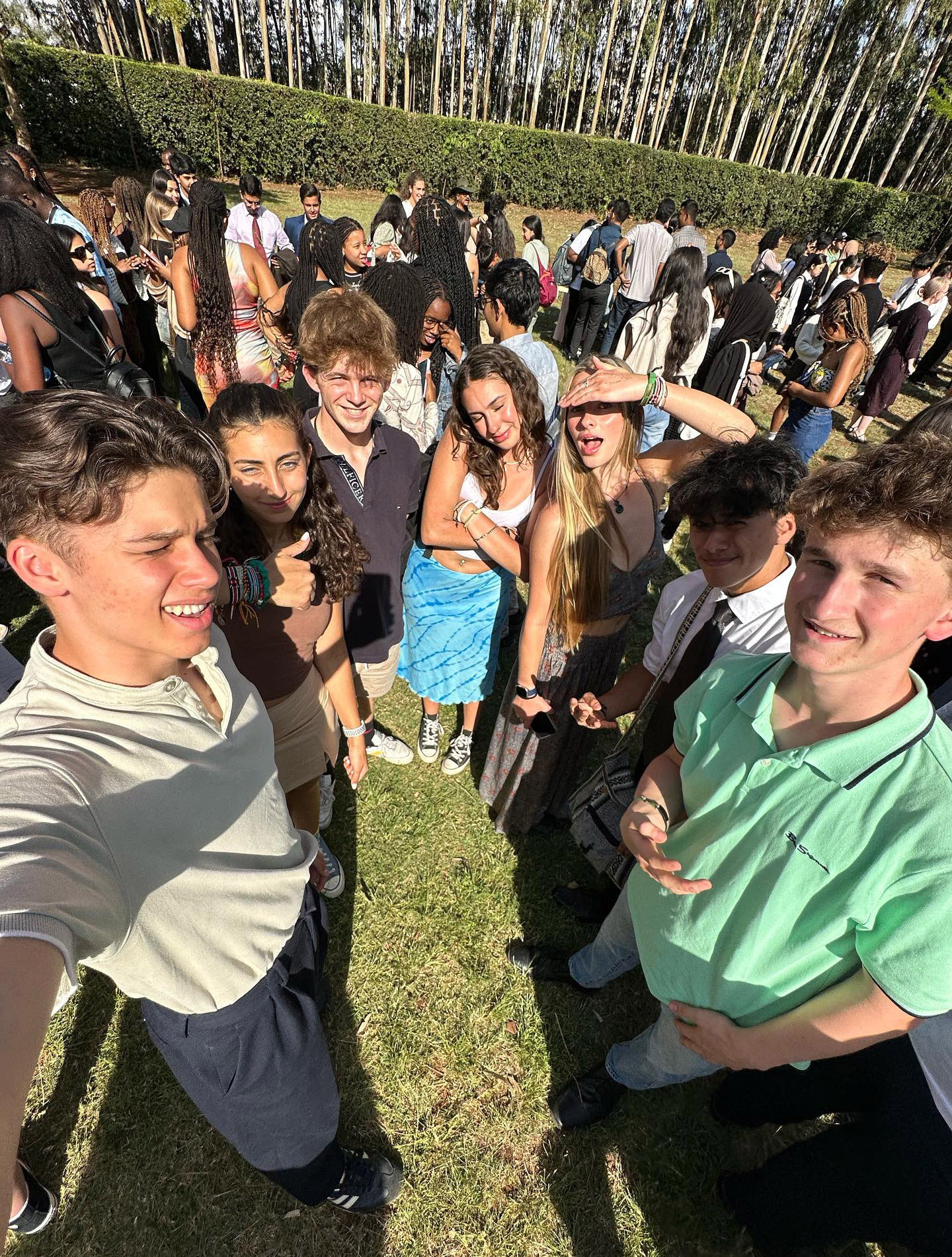 "While the purpose of the trip was to attend the conference in Nairobi, we experienced so much more," they say. "After arriving in Kenya, we spent one night in Nairobi before undertaking the six-day safari. Along the way, we were constantly learning about the way of life in the parks from our tour guide, Fanuel Autino Obama, who apparently shares the same great-grandparent as former US President Barack Obama.
"Some of the things we have learnt include the culture of the indigenous Maasai people – with the millennia-old traditions still in practice – as well as the behaviour and lifestyles of the vast range of wildlife within the game parks.
"In total, we saw 35 lions, five cheetahs and a cheetah cub, a leopard out in a field, and many hippos, warthogs, vultures, and bird varieties. We also got close to a very rare black rhino, as well as a rhino and her calf. Each day, a new sighting topped the previous one."
Following the safari, the College trio were welcomed to Brookhouse School – the site of the conference – where they were greeted by Kenyan dancers and drums, and sampled local food and met conference delegates from other Round Square schools.
"Getting to meet other individuals your age from all over the world is such a unique experience and allows you to share different opinions and conversations, while making friendships and contacts across the world for the rest of your life," Jack says.
"The conference theme was 'the new Africa'. Over the next three days, we explored this theme through democracy, service, and adventure, with panel speakers, homestays, service trips, and even an overnight camp in Nairobi's own national park within the city.
"Conferences like these start to open your eyes to how Africa can create a new and improved future for generations to come with help from other continents. The ideas and lessons regarding Africa – along with the Round Square IDEALS – were all important aspects of the conference, but it was the friends and people we met along the way that made the trip so special.
"A key message from the trip to Kenya is the number of things we take for granted back in New Zealand – fresh water, hot water, electricity, healthcare, shelter, and the list goes on. Poverty and unemployment are also huge issues in Africa, with 50% of Kenyans unemployed and struggling to provide for themselves, let alone their families."
Both Jack and Tom believe that they are "incredibly lucky to have so many resources and opportunities in New Zealand".
"However, this is not what we all experience. So instead of taking it for granted, take this experience as a lesson in being grateful for what you have."
As both students point out, "these are the kind of lessons and important morals you get to experience in exploring other countries, and we hope that College boys are fascinated enough to apply for next year's conference in Bogota, Colombia".