Formidable forwards play on – 70 years on
Seventy years on – and at age 87 – both Tom Tothill (5712) and John Clayton (5652) are back in play for the Christ's College Rugby Reunion on Friday.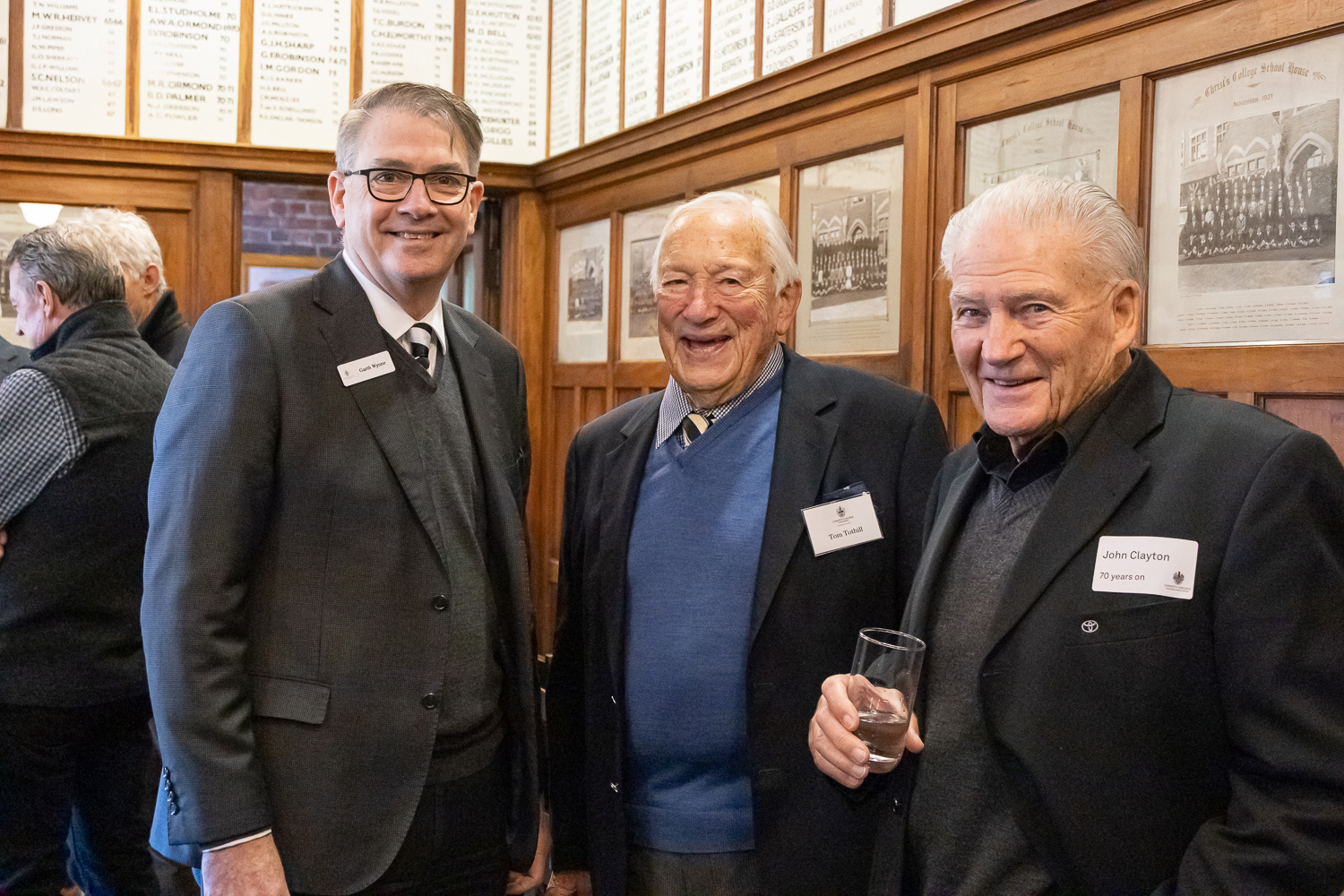 The only representatives of their 1952 1st XV to make the big reunion day, the redoubtable duo have fondly recalled their time at College, with Tom pointing out that he "used to hold John up" – playing the position of front-row prop to the hooker.
John adds that "Tom was probably the first boy I met at College" after arriving from Wellington in 1948. They remain firm friends today.
Christchurch-born and bred Tom, a successful inventor, believes it is "very important to actually come back and present oneself at school and see all the other reunions and that the boys see these really old men walking around but still alive from so many years ago".
For Tom, Christ's College is 'home'. He was born in the school building on the corner of Rolleston Avenue and Armagh Street where his father, teacher Tommy Tothill (2357), and his family lived. He even made his Chapel Choir debut at age seven as his parents tried to keep their mischievous son busy.
Rotorua-based John – one of the first dealer principals for Toyota New Zealand – adds that "it has been good to see the improvements around the school" and he is "very impressed with the buildings and the facilities".
However, he had been hoping to see more old friends.
"I was looking forward to catching up with members of the team. I was a bit shocked to find out that there were just two of us fit enough to get here."
Meanwhile, a match report in The Christ's College Register describes their 1952 game against Christchurch Boys' High School as the "climax of the season", with the College backline proving too good and the "excellent goal-kicker" sealing the one-point (10–9) win with "two splendid conversions".
In the 1952 season report, John is regarded as "a good hooker with fire and vim in the loose which kept him always on the ball" while Tom "worked well in the lineouts, backing up the jumping forwards" and was a "first-class front-row prop" with "great promise".