College pair secure front-row seats for world titles
Fergus Johnston and Charlie Poulter have 'rowed' their way to France, lining up for New Zealand in the eight and the pair, respectively, at the World Rowing U19 Championships.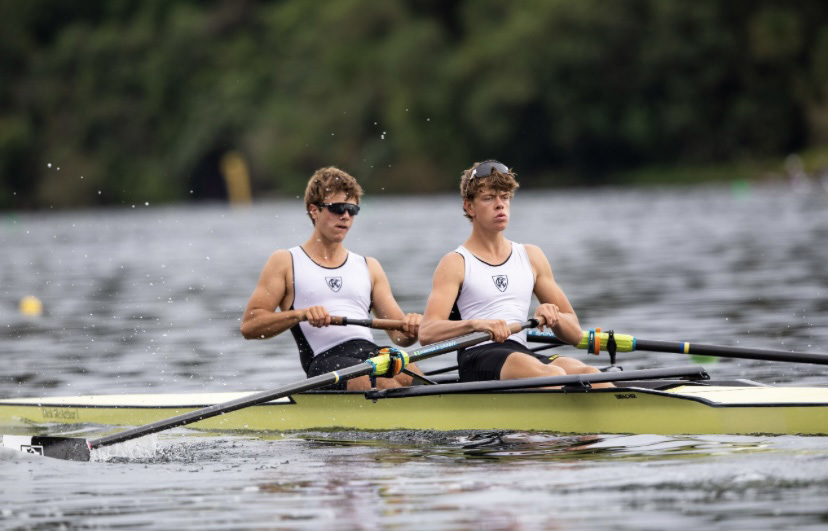 Now in their final months at Christ's College, they both aim to "stay in the boat" as they target more international rowing seats but agree that they have achieved so much – and gone so far – by competing against each other and applying the pressure to go faster.
Having first picked up an oar in their 2019–2020 summer sport season at College, Fergus and Charlie – now both 17 – have often found themselves vying for crew spots. That competitive spirit has powered both to the front in the representative race.
"We have pushed each other along in our rowing journey at College," Fergus, a member of Harper House, explains. "We have tried to match each other each season – holding each other accountable and determined to do the best to benefit both of us."
Charlie agrees, saying that determination, sheer hard work, and mutual support over several years have driven their success – all the way to France.
In July this year, their commitment and self-belief were rewarded as they boarded a flight for Paris, nervous but excited about their first appearance on the international rowing stage at Vaires-sur-Marne.
"It was so cool to be named in July to represent New Zealand in the eight in France following a tough contest for the team seats during the U19 trials on Lake Karapiro," Fergus says. "My parents were so proud, and I was so happy to get the spot after competing against such top Kiwi rowers."
For Charlie – Head of Corfe House – "it was a tough trial experience and very testing" as he also chased a starting spot at Vaires-sur-Marne.
Both rowers also had to keep up their studies, despite being away from school at trials in the North Island and then in Europe for a total of nearly three months.
"At the trials, 16 rowers were vying for a spot in the eight, plus two reserves," Charlie says. "At the final trial run, I was not in the boat, but Fergus was, so that was cool. At the team announcement, I was named as a travelling reserve, along with another rower from Waikato. I did not know how to react but was so pleased that I was going to Paris."
Charlie was also told that both he and the other reserve still had an opportunity "to make it known to the selectors that we could go fast enough to actually race as a pair in France".
"That was the motivation – something to work towards," he says. "It was a mentally challenging campaign, not having much time in the pair in the lead-up to the world championships. In our last winter series in New Zealand, we reached within 4 per cent of the time required. We were then pulled aside by the selectors – only a week before we left – and told we would be racing in the pair in France."
Landing in Paris on 20 July, the boys had to quickly adapt and faced a battle with poor weather conditions for training and racing. After 10 days of training, the boys then faced an intense, condensed competition against the world's young rowing elite.
For Charlie, it was a great opportunity to line up in against a top field in the heats and while the pair did not progress, he learnt a great deal – both on and off the water.
"I was proud to get there, and after all the work we put in," he says." I also appreciate all the people we met on the way and those who helped us, along with having family support at the world championships."
For Fergus, finishing 4th in the A final of the eight was a good result, with the Kiwi eight following formidable crews from Britain, Germany, and Romania.
"Travelling with the Kiwi rowers and coaches and having Mum and Dad there was great," he says. "New Zealand had the biggest support team at the championships."
Both Fergus and Charlie acknowledge the support and training of the College coaches, right from Andrew Taylor and Liam O'Leary when they were in Year 9 through to Jimmy Healy, Will Satch, Nathan Luff, Tony O'Connor, and Malcolm McIntyre.
"In the past few years, College coaches Tony O'Connor and Malcolm McIntyre were huge drivers for our success," Charlie believes.
Apart from France, both Fergus and Charlie cite their silver medal in the pairs at the 2023 Maadi regatta as the season highlight. They also won silver in the College eight in the 2022 Maadi Cup. Training and supporting each other through the pandemic and the ups and downs of rowing were integral to all their success.
"When that pandemic lockdown happened in 2021, I thought 'right, let's get into this rowing season'," Charlie recalls. "When the restrictions on meeting friends were lifted, I met up with Fergus every day or every other day and we would go and do long bike rides and that led us to being on top of our game at the start of that rowing season. It was so good for us, and we managed to secure our spots in the U18 eight in 2022 as U17s."
While there have been a "few speed bumps" along the way and some switching of seats, Fergus and Charlie are even more strongly committed to rowing, having been selected for the inter-provincial competition and now representing the Avon Rowing Club.
With university on the horizon, both believe they can go much further – and row much faster – and aspire to line up at the elite level for New Zealand.