Christ's College students step up to support 'Aunties'
In a joint initiative with St Margaret's College, Christ's College students have supported the Love Grace x Handbag Appeal 2023.
In the College Dining Hall, instead of food being packed onto plates, essential items – such as hair products, tissues, toothpaste, and sanitary products – have been packed into handbags for the Christchurch Aunties as part of the recent Love Grace x Handbag Appeal.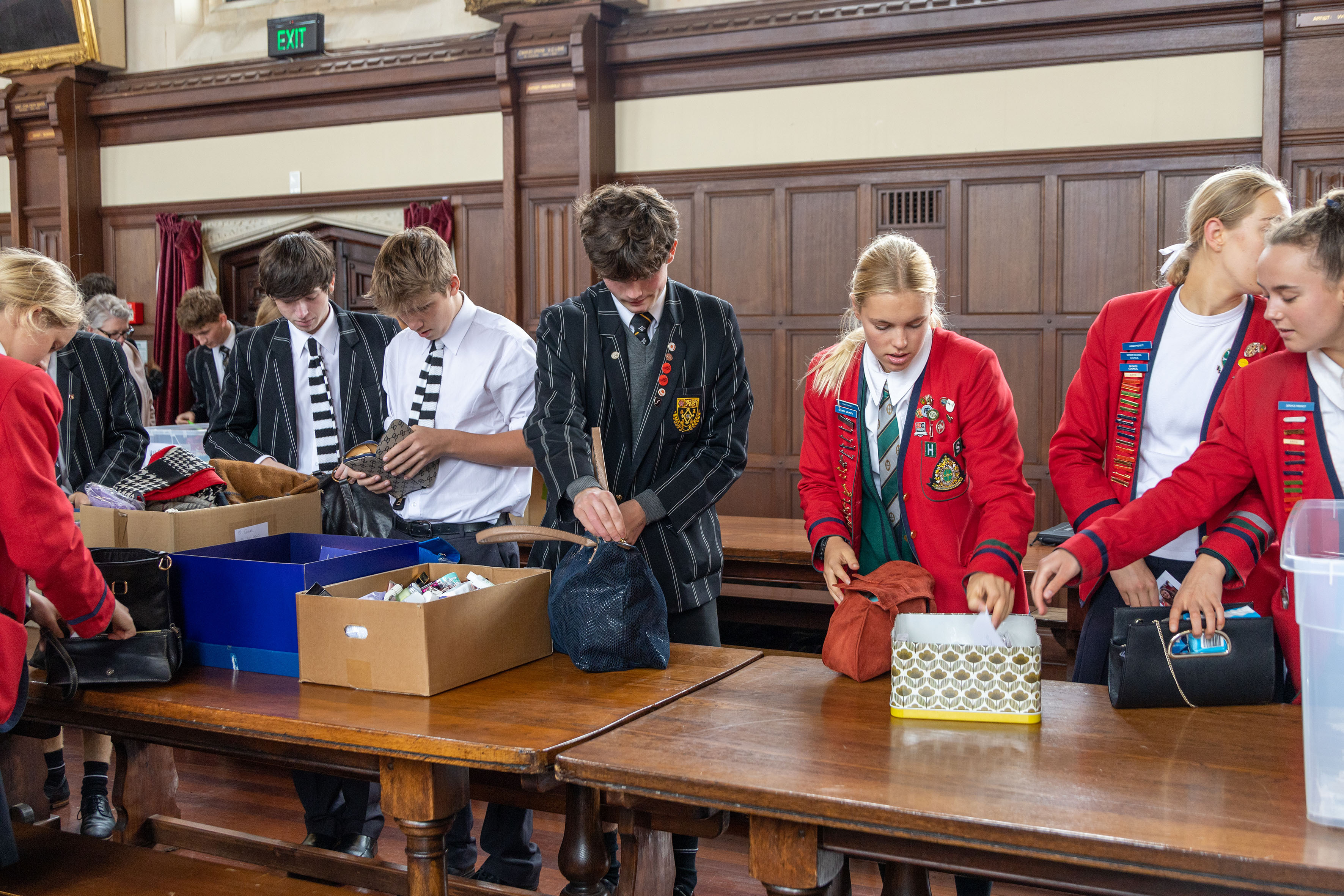 The Aunties group mobilises, co-ordinates, and donates to help domestic violence agencies while the Love Grace x Appeal aims to empower victims of domestic abuse in honour of Grace Millane, a young British backpacker killed while visiting New Zealand.
Packed by about 30 students, the handbags will go to women in need of an escape from partner violence or family violence, supplying them with personal essentials for up to a month to help find safety away from harm at home.
Enthusiastic comments encouraging students to continue packing have been heard around the Dining Hall, with students remarking on the importance of knowing "it'll help someone out", and suggesting that "we should do this again".
A rhythm was soon formed after everyone started packing the handbags, and this continued until the very end, with exclamations at the sheer volume of packing, fist bumps, and inspirational comments from the Christchurch Aunties.
More than 100 handbags have been packed, bursting at the seams with essential supplies and a few extras.
"To be honest, by the time we were nearing the end of the essential items, everyone was a bit disappointed," College Head of Service Elliott Grey says. "We were right into it, and everyone loved knowing that they were getting stuck into something that'll go a long way.
"We were impressed with the effort, and having the straightforward task of simply stuffing as much stuff in a handbag as possible and starting again was very satisfying for everyone," the students say. "We should definitely run something like this again sometime – all we need are the handbags."
For Aunties Christchurch Manager Karon, it has been great to see the students' enthusiasm and willingness to be involved.
"Set in the glorious College Dining Hall, the teams selected a bag and made their way around the bins of basic, extra, and luxury products until each bag was brimming with much aroha, support, and hope," she says.
"It was awesome to find the students were so engaged in their task and made such a wonderful effort to present their filled bags, in honour of Grace Millane's memory."