Gerald Hargreaves – beefing up premium returns
Kakahu Angus – advanced by Old Boy Gerald Hargreaves (6761) and now led by his son, Tom (11286) – is responsible for breeding some of the best bulls in the beef business.
A multi-generational South Canterbury stud, Kakahu Angus remains focused on its commitment to delivering premium beef while enhancing farmland for generations to come.
Put simply, Kakahu is the "perfect breeding ground for quality beef" following Gerald's decision to steer the business in an innovative direction in the 1980s.
Returning to College for his 65 Years On Reunion, the former School House boarder reflects on his years at Waihi School and College – from 1958–1961 – with appreciation and shares his post-College journey.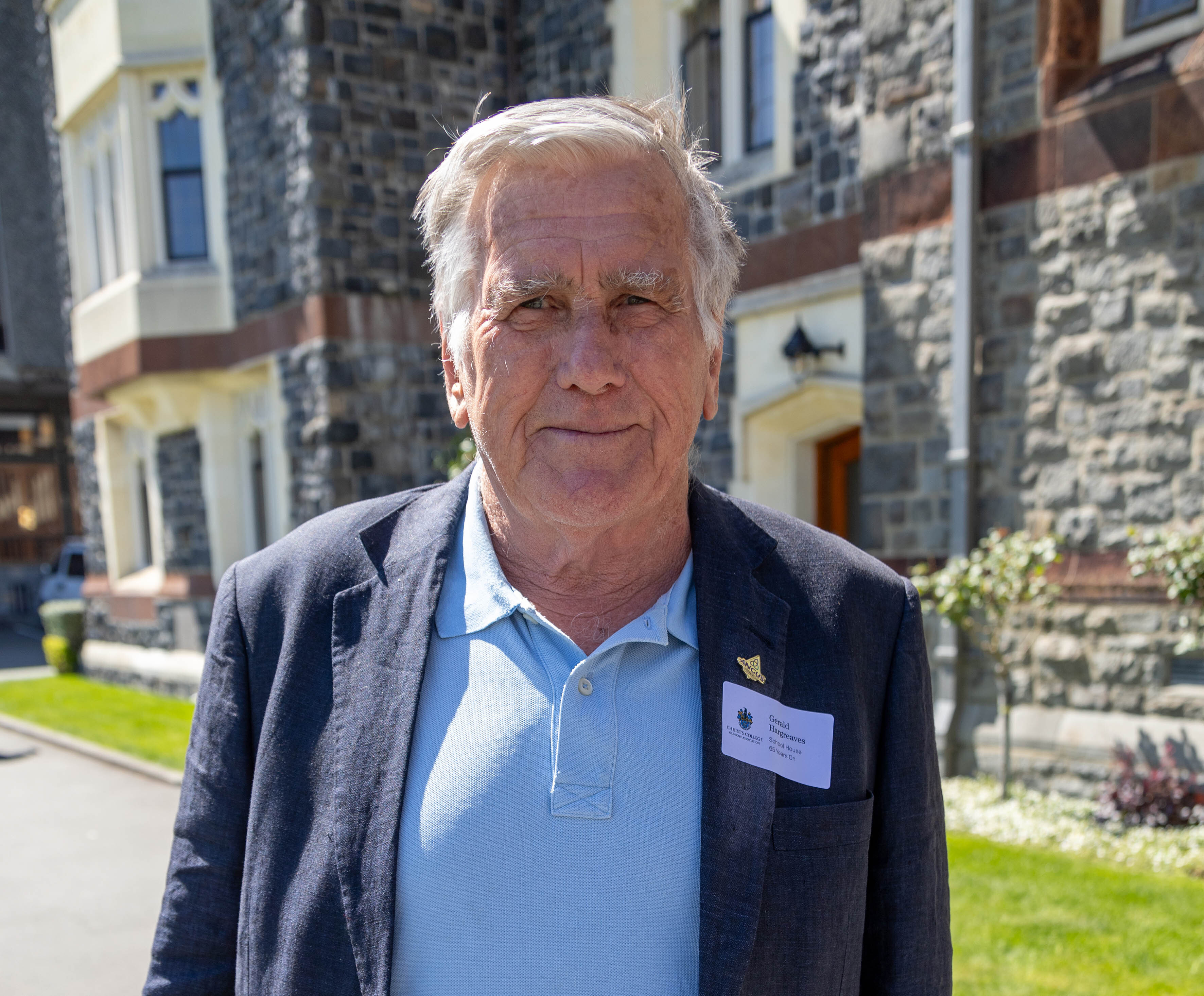 After transforming the Angus breeding industry in New Zealand and crediting his schooling for its role in enabling his wide-ranging success, Gerald firmly believes that "there is only thing you can do for your children", and that is to ensure the best education.
"We lived 'down the road' and I was sent to Waihi School, at age eight, as a boarder," he recalls. "It was a very sparse existence and spartan. You were allowed jam or butter on your toast – but not both – and one bath a week, and you washed your knees in the basin. You got into the bath and the next boy got in at the other end, and then into a shower. I had bad asthma and the matron was meant to give me a puffer. However, she poured the stuff down my throat instead."
Despite the sombre surroundings, Gerald describes Waihi as "a good 'family' school, with only about 50 of us there".
"I was the junior athletics champion and then missed the senior title through a foot problem," he says." I was in the 1st XV, the 1st XI, and the hockey team. When I came to College, I'll never forget the difference – it was like going from night to day. You were a big boy at Waihi but you were a small boy at College."
Arriving at College in 1958, the young boarder followed generations of Hargreaves family members, starting with his grandfather, Walter Herbert Hargreaves (629), from 1875–1884. Gerald's father, Kenneth Hugh Hargreaves (2799), was a member of School House from 1914–1919 and Gerald's son, Tom, joined the same House from 1991–1995.
Gerald found College to be strong on discipline but revelled in his school experience.
"You could not do up the buttons on your blazer in the first year and then only one button could be done up in the second year," he says. "We strictly adhered to the rules. You were not allowed to have your hands in your pockets in the first year but, in the second year, you were allowed to have your hands in your coat pockets. By the third year, you could put your hands in your trouser pockets. My father told me that the only difference between when I was in School House and when he was there was a coat of paint on the bricks. I'll never forget walking in the first time and seeing the front doorstep so worn. It showed how many people had walked through that door before me.
"I was in a dormitory of 30 boys in my first year. All bar one person in the dormitory was related to one another, somehow. You had to go back several generations and into marriages and things, but there was only one person who wasn't related in some form. I think College represented those connections. The farmers and landowners had helped to set the place up, with farming families the early backbone. Our Housemaster, Mr Williams, was a very good man – fair but tough – and our matron, I think it was a Mrs Tish, was quite a character."
During his time at College, Gerald "played House hockey, did rowing and swimming, and was in the 1st XV, the 2nd rowing VIII and the first IV".
"I opted for swimming at the end of the term rather than rowing, and did not move into the top VIII. We have had four generations represent College in 1st XV rugby."
Following College, Gerald headed "straight onto the family farm" near Geraldine, eventually taking over – and expanding – the South Canterbury stud.
Owned by the Hargreaves family since 1924, Kakahu is now a substantial operation. Gerald took full control in 1966 after spending several years working on farms in the United Kingdom, including an Angus stud in Scotland. By the 1970s, Gerald knew it was the right time to realise the potential of a fresh breeding programme.
"We had a small Angus stud when I came home but I soon realised we needed to change and expand," he says.
"I was convinced to go to the United States in 1980s where I met someone who designed all the genetics for some larger herds. It all just clicked and I fully understood the implications of science for breeding and the need to marry the two. I brought that genetics technology back to New Zealand and we became the largest importer of semen. We introduced technology and genomics into our breeding herd after finding the right animals in the US."
Today, Kakahu Angus is at the forefront of utilising science and technology to lift financial returns to farmers in the premium meat market. Powered by the American Angus lines, the Kakahu Angus are rated among the very best in terms of quality and superiority.
"We now have 600 stud cows on our family farm – one of the larger studs in the country. We have two sales a year, with Tom running the operation. Through science and common sense, we are now one of the largest importers of Angus semen and considering our next steps to further advance our brand."
Gerald also started a Charolais stud 15 years ago. Today, Kakahu is one of the larger suppliers of Charolais semen to the dairy industry, focusing on calving ease and growth.
While Gerald "would sooner be on the racetrack than moving animals", he is still involved in the business. However, he has returned to his original role of "petrolhead".
"I had a Works Cortina in my early racing days and was on the original OSCA Super Saloon committee," he recalls. "OSCA is the longest-running series in New Zealand. After some time away from the sport, I bought another car and returned to the track in the Sport Saloon Cup at age 70. Now, at 80, I am nearly the oldest person in New Zealand still racing but today I drive a classic BMW and a Toyota Altezza, which is 600 hp."
Meanwhile, son Tom and his wife, Anna, are firmly settled on the farm and overseeing the day-to-day operation. Tom returned from a stint playing polo overseas and having gained a Bachelor of Design majoring in Interior Architecture. Today, Tom and Anna balance farm life alongside running their own specialist interiors, architecture, graphic design, and advertising business while also nurturing the next generation of the Hargreaves family.