Building better businesses for 75 years
At 92, company director and accountant Reg Hintz (5203) has spent most of his working life investing in people and helping to grow businesses around New Zealand.
For more than 70 years, Reg has worked in finance and accountancy, focusing on guiding people to success in business. Post-World War II, he realised that there were a multitude of opportunities in a dramatically different world and set out to eventually develop a tailor-made finance business committed to financing others to achieve their dreams. Today, he remains at the helm, acknowledging that he still "thinks outside the square".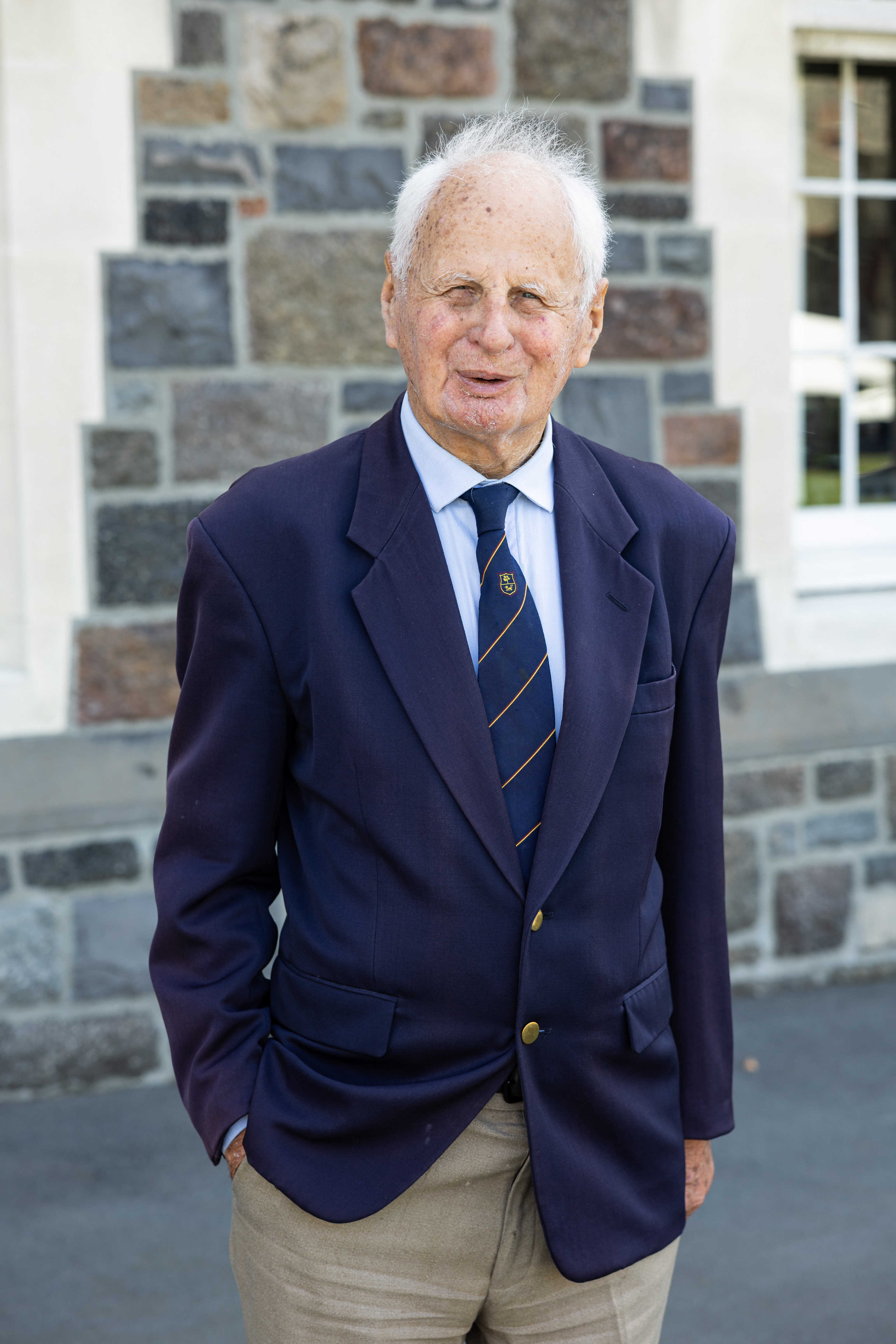 Early on, Reg displayed that aptitude for making the most of opportunities, including his time in Harper House from 1943–1947.
"I went to Christ's College – from Shirley Intermediate School – on an academic scholarship," Reg explains. "Interestingly, the Shirley Intermediate headmaster called two of us to his office and we thought we were in trouble. Instead, he suggested that we sit the Christ's College scholarship and offered to provide coaching. We used to go to his house on Sundays for lessons. That was what you did back then. I later realised that 'gosh, that was quite something'. We both gained scholarships to Christ's College and went into Harper House, along with a third friend."
Reg describes his Harper Housemaster RJ (Russ) Hounsell as a "great guy who used to bowl in the nets".
"College helped to develop my great love of cricket. I was never good enough for the 1st XI, but I did play a few games for the 2nd XI, and I played club cricket until I was aged nearly 60," he explains.
"I played for Burnside West Christchurch University Cricket Club, as did my son, Andrew. Andrew played for the senior side for 12 years and played for Canterbury for three seasons. Unfortunately, his career was cut short by serious stress fractures in his back."
Sadly, Andrew Hintz, a right-arm pace bowler, died of cancer at only 52 in 2016.
"Andrew was a very good cricketer but an even better bloke. It doesn't seem fair when I am still here at 92."
Reg continued to invest in his passion for cricket over many decades as a member of the Burnside West Christchurch University Cricket Club. He played in the Presidents Grade for many years, and served on the club committee, including stints at the crease as treasurer, vice-president, and president. In recognition of his long service, Reg was made a life member of the club. He is now the oldest living life member.
"In 1991, when I was the club president, the senior side won everything, and the 2nd grade side also won its grade. It was the most successful year in the club's history."
Reg recalls that "he did all right at College" but "missed out on the accountancy prize as I missed the exams due to illness".
"However, I did three units of my university accountancy degree while still at College," he adds. "I also became a House Prefect. Things were very different then, with rationing and some teachers medically unfit for war service and others called back from retirement."
Reg continued his degree at the University of Canterbury in 1948, attaining a Bachelor of Commerce while also holding down a job.
"I went to university part-time, as we all did in those days," Reg explains. "I didn't take part in the university social activities because I was busy working and studying."
However, he did join the Tramping Club and "developed a strong interest in tramping".
"One of my friends, who was also an entrance scholar at Christ's College, had a bad leg affected by polio and thus was excused from rugby at school but required to play hockey. Interestingly, he eventually climbed Mount Cook whereas I only climbed Mount Rolleston. I did many tramping trips during the long holiday breaks and had some great experiences.
"Once I was qualified, I worked in public accountancy. Then I took a job as chief financial officer for Hunter Lounge Suites."
Reg stayed with Hunters until he retired from the role in 1965 after helping to build up one of the country's most well-known furniture businesses.
"It was a very successful business. When I first joined, we were only operating in Christchurch. Later we expanded to Nelson, Dunedin, and Invercargill.
"I had also built up a bit of private practice, which I am still doing, and also have a finance company specialising in business finance."
Today, Reg is still working full-time overseeing his own successful company, supporting people to invest in and grow their own businesses. He also considers the viability of a business before a client makes an investment.
"I have had people coming to see me years later to thank me for helping to change their lives by financing them into their own business."